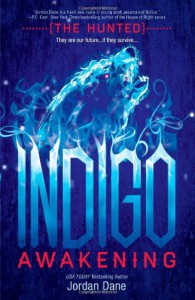 Indigo Awakening started off with many question marks. The story revolves around a brother and a sister as well as an organization under a church that hunts kids called Indigos. Lucas Darby hears voices in his head and was locked up in a mental institution under the church. He was able to escape and reunite with people that are like him, even though he doesn't even know what the hell he is. At the same time, his sister, Rayne, is looking everywhere for him. She never wanted Lucas to end up at the institution, but her older sister, who works at the church, has full custody and put him there.
Things get interesting when Rayne finds one of those Indigos, Gabriel, who is messed up in his own way because of the powers he has and also in hiding. The readers know about the existence of many indigos and their powers, however the characters themselves are clueless, which allows me to not get frustrated trying to find out what the big secret is, but at the same time the mystery is still there for the characters. Indigo Awakening centers on the children harnessing their power and fighting back against this oppressive organization to live the normal life they deserve.
Plot wise, Indigo Awakening was very different from the usual books I read. It is told from many POVs, including many from the church's side, as well as being told from a 3rd person POV. Those two styles of writing usually break it for me when it comes to books but strangely, it worked for Indigo Awakening. What is also in the plot is romance; I don't want to dwell on it because the romance isn't that significant compared to the plot and I am sure Jordan Dane will expand on it in the second book, something I am excited for. Also, Dane ended the book with a bang; I literally (yes, really) gasped and had my mouth gaping trying to find the word to explain how unexpected and awesome that plot twist and cliffhanger was. I would recommend this novel to fans of superpowers and supernatural YA novels with a bit of mystery and conspiracy!